News
Elevate Otaki

Thank you to Maria Henry for providing notes to create this outline report. The following should not be regarded as a complete verbatim report.
Elevate Ōtaki and Flightdec held a hui on Wednesday 19 June at Māorilands Hub in Ōtaki. About 30 people attended to contribute their views and ideas.
The meeting provided an open forum for people to express themselves on Ōtaki and what makes it work as a community. In short, we want to better understand and define the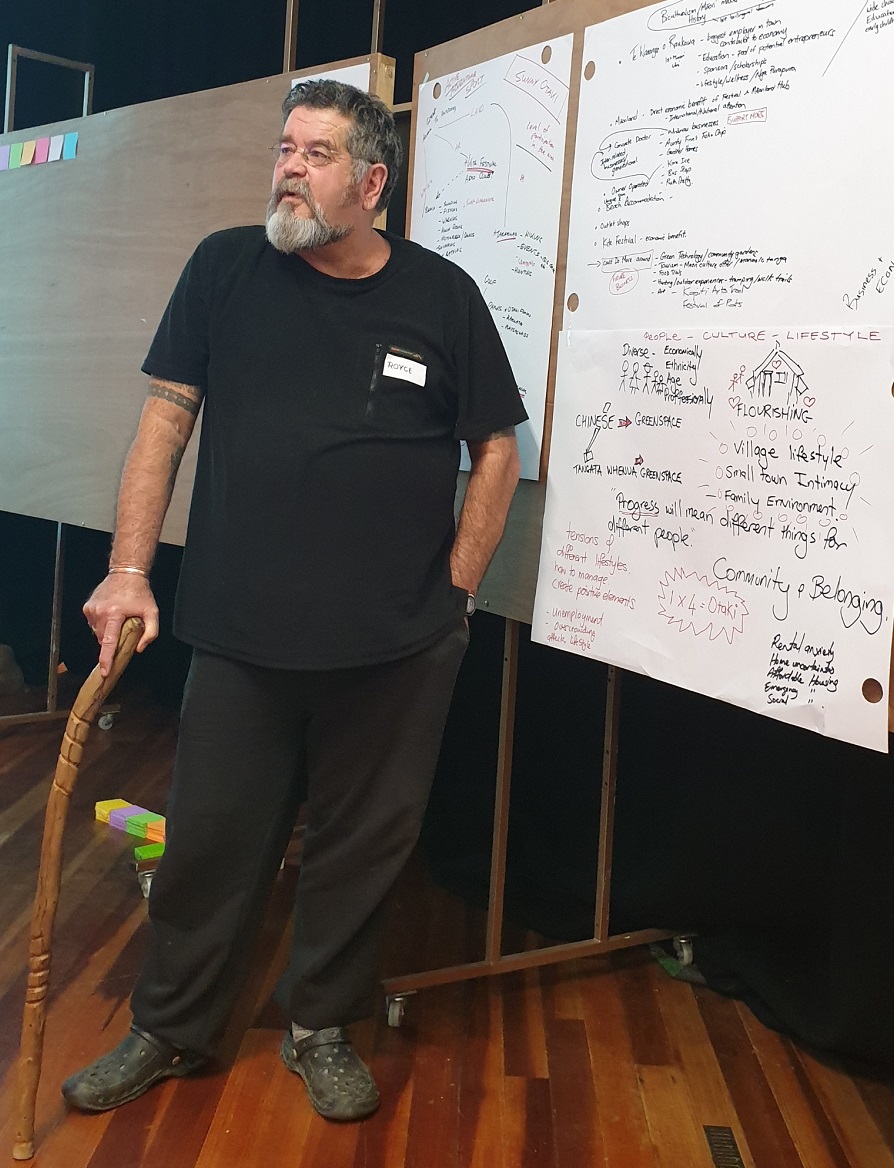 fundamentals that showcase the town, and the stories and things that make the community work for people's well-being.
This is part of a project that is looking at how to showcase the best of Ōtaki as the expressway approaches. Gathering people's views and ideas is a key element in the project because it is not designed to "change" Ōtaki but enhance what's already here.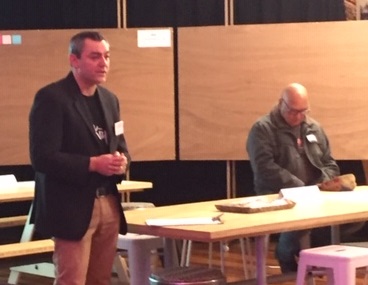 Pat Hakaraia welcomed everyone into the whare, then Councillor James Cootes from Elevate Ōtaki provided some background on the group's mission, values and kaupapa.
Fraser Carson, the facilitator for the evening, explained that Elevate Ōtaki couldn't work on this project alone - the identity of Ōtaki needs to come from the people of Ōtaki. Fraser explained what identity is - a sense of place, of pride, a voyage of discovery. Knowing and understanding your identity helps to solve issues, it helps to create pride and create a sense of belonging.
This led on to two questions for the attendees to workshop:
What makes Ōtaki good and unique, relating to a theme?

What is the single thing that makes Ōtaki special?
There were seven themes and the groups set about workshopping at various tables to produce a mind map/answers to the above set questions.

Some highlights from the theme discussions and presentations:
Town and Environment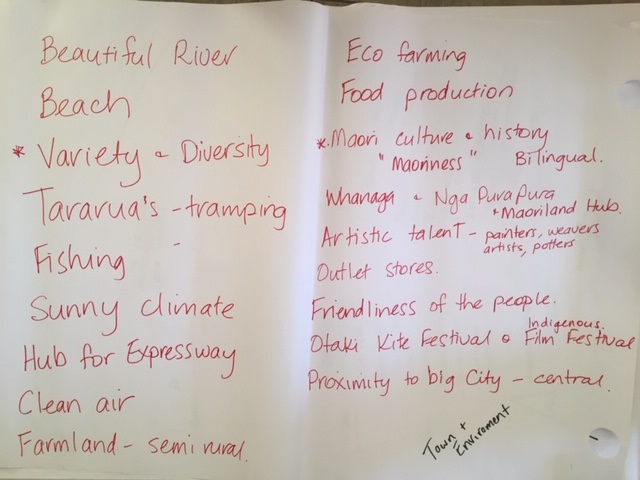 Beautiful natural and built environment including beach and river with wide variety and diversity for all things outdoors.
Sunny climate
Eco farming
Food production
Artistic talent
Outlet stores
Friendliness of people.
People - Culture - Lifestyle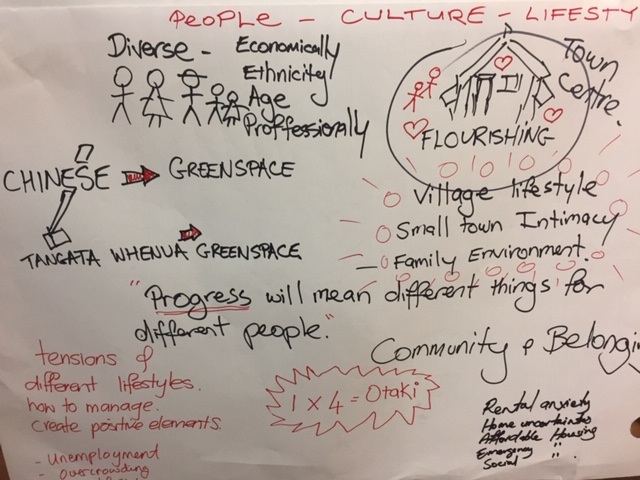 Marae was central in a flourishing Ōtaki Town Centre
A village lifestyle with small town intimacy and family environment
Diverse ethnicity, demographics, professions and economically
Sense of belonging.
Arts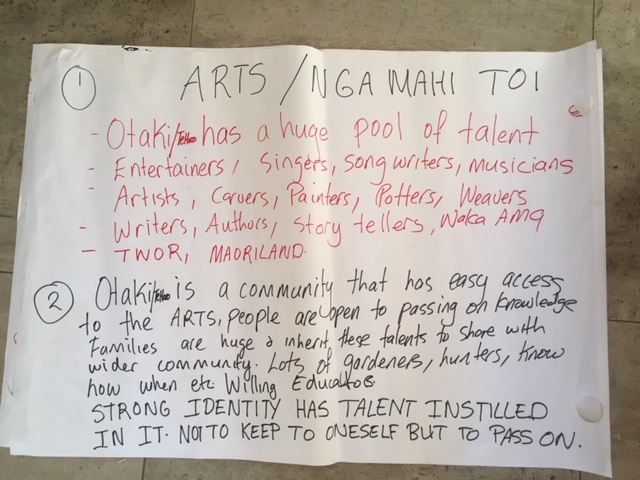 Huge talent pool in Ōtaki
Access to arts including Māoriland etc.
Important to share skills and talents with both community and visitors.
History / Heritage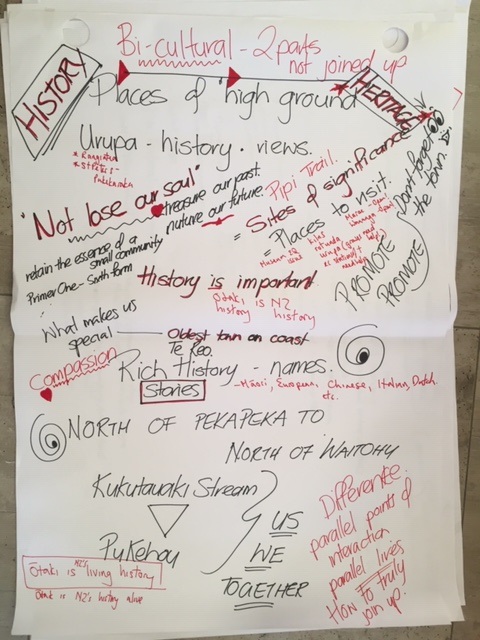 Bi-cultural - two parts not joined up
Treasure our past and nurture our future
Many sites of historical and heritage significance to visit
Ōtaki is NZ's living history.
Business and Economy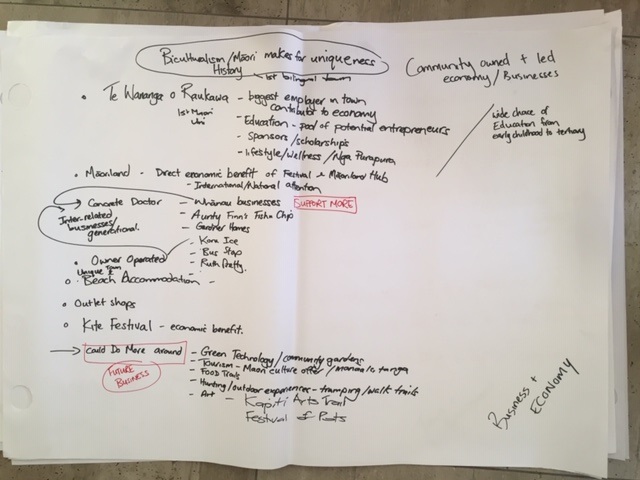 Ōtaki can be attractive to new businesses, based on what is already here (e.g. lifestyle and education) and will be attractive to certain types of business.
Te Wānanga o Raukawa is the biggest employer in town and contributor to the economy, and providing the community with a pool of potential entrepreneurs
Māoriland - direct economic benefit of festival and Māoriland Hub bringing national and international attention.
Whānau businesses - some which were inter-related and inter-generational
Suggested Ōtaki could do more around:
Green technology, community gardens, tourism - particularly around Māori culture, manaaki tanga, food trails, hunting/outdoor experience, tramping, walking trails, art.
Active/Adventure/Sport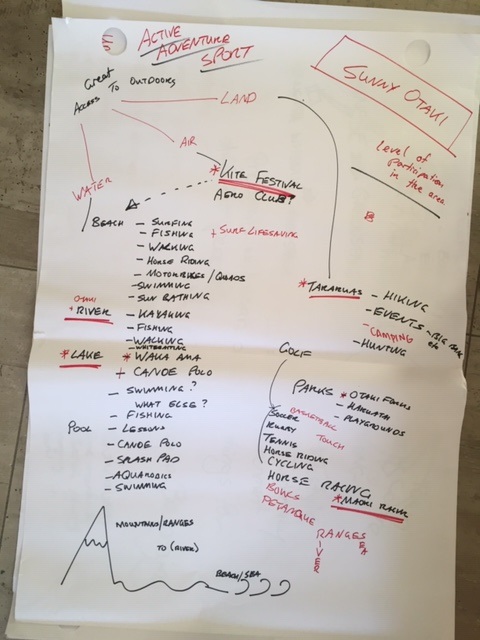 Great access to outdoors:
Land:
Tramping, events, camping, hunting, golf, Ōtaki Forks, Haruatai, playgrounds, soccer etc and of course, Ōtaki-Māori Racing Club.
Water:
Beach for surfing, fishing, walking, horse riding, motorbikes, quads, swimming, sunbathing.
River for kayaking, fishing, walking, whitebaiting.
Lake for waka ama, canoe polo, swimming, fishing etc.
Pool for swimming lessons, canoe polo, splash pad, aquarobics, swimming.
Air:
Kite Festival
Aero Club
Suggested that there be development of adventure visitor tourism.
Produce and Food


Nourishment and abundance
Sustainability
Food co-ops
Relationship to land
Local, artisan, organic, niche market, history (market gardens).
The following answers were offered by each of the seven groups as to what is the single thing that makes Ōtaki special:
Māoriness
Māori/biculturalism
Level of activity in sports
Village lifestyle/small town intimacy
Art culture
Bi culturalism
Food story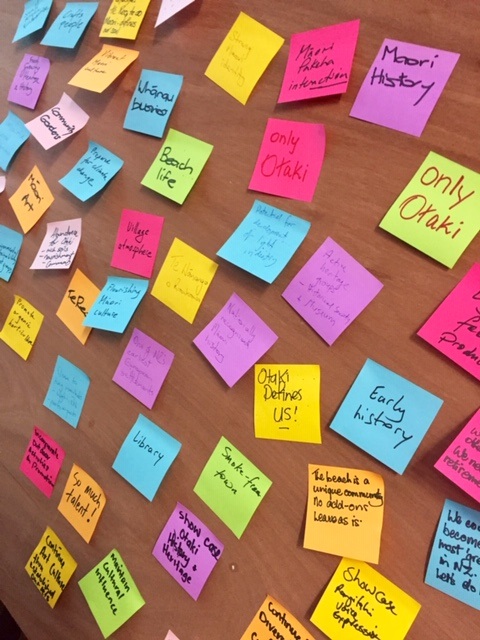 The korero attendees were then asked to place post-its on the wall with 2-3 worded comments on what was positive and negative about Ōtaki.
Fraser noted, in a closing summary, that there is a strong sense of community, history and multiculturalism evident in Ōtaki, particularly a vibrant Māori culture.
The invaluable feedback and ideas from the evening will be incredibly useful in creating a public identity for Ōtaki.


For anyone not able to attend the public meeting and if you wish to express a view, please see this page. In addition, you can help Elevate Ōtaki develop an Ōtaki of the future by taking five minutes to answer our online questionnaire here. The questionnaire is open until 31 July 2019.
More photos