Use of the Ōtaki logo
Elevate Ōtaki launched the town's new identity and logo on 7 August 2020 - see the 3 August 2020 media release here.
The Elevate Ōtaki identity project was funded jointly by KCDC and NZTA, and is the culmination of a series of community consultations including public and stakeholder meetings and engagement, preview feedback, and social media engagement and polling.
The project is designed to reaffirm Ōtaki as a thriving community with a cultural centre and a destination retail hub by sharing stories of the town's people, history and character, including its success with Māori language revitalisation.
Ōtaki Logo
The logo is available as a resource for all Ōtaki people. It is for general use but there are some simple rules about its use, so that the it can be viewed consistently and attractively. If it is redesigned or misused, it will fragment Ōtaki's identity and diminish its power and appeal for the whole community.
Basic Rules For Use
The Ōtaki logo is available as electronic artwork online on this page. It does not need to be scanned, altered or redrawn in any way for use in digital or print media. Even though the elements may look like fonts, reproduction of the logo is done as a direct copy and not by imitating it or setting typographic fonts.

The logo has a by-line and translation. These elements must always appear together (logo and by-line) as one piece of artwork and in the same proportions, as shown in these guidelines.

The logo must be used as a separate and isolated element, from other design elements, in any communication. For example, it cannot be used within another logo design or folded into a different design motif. Rather and for example, it can sit next to and apart from your own logo, or separated on a promotional poster.

The logo must use the prescribed colours from this full Style Guide. The preferred version is the 3D colour version on a white background - see below.
Download the Logo for your website
Right click on the logo and select "Save Image As...."
3D COLOUR VERSION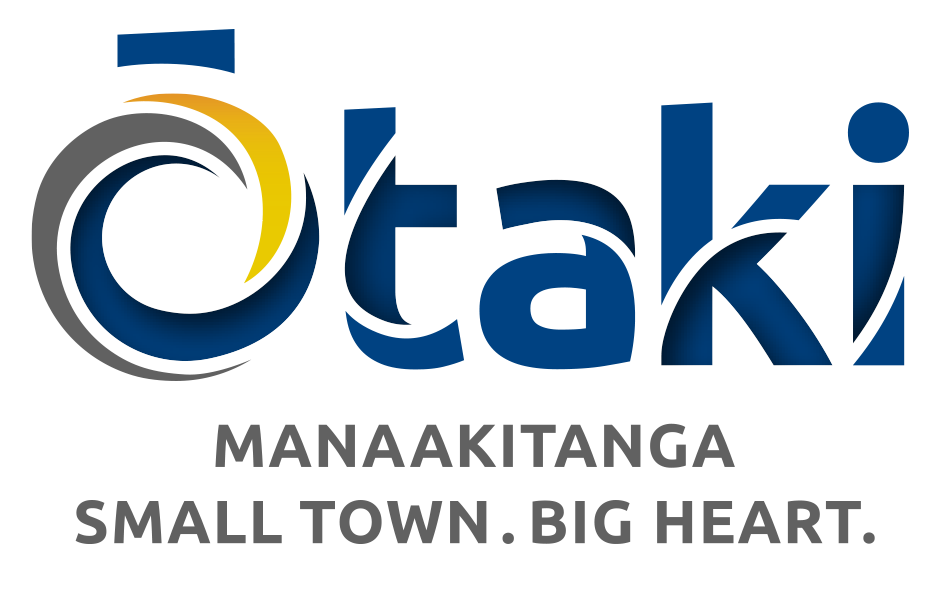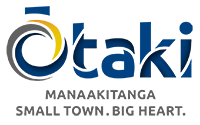 1 COLOUR VERSION
REVERSE VERSION (White)
Where the background colour is darker than 40% black, the reverse version must be used, say over a photograph or a flat colour. Otherwise the logo can be reversed out of a flat colour background of a single colour – the preferred colour is the Otaki Blue #004181 Download the Logo for your Powerpoint or Word Document
Right click on the logo and select "Save Image As...."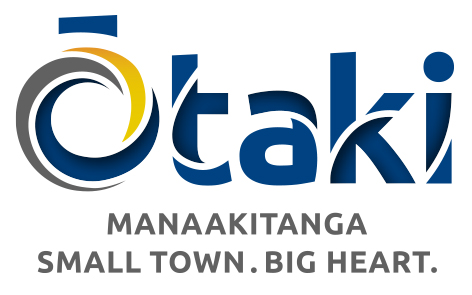 For more colour formats and transparent backgrounds, select the image or text below to download a zipped document of all jpg and png files for powerpoint and msw documents.

Download the Logo for Commercial Print
Select the image or text below to download a zipped document of all eps and pdf files for print.

Please state what you are using it for, how it will be printed and what colour format you need it in.