News
Elevate Otaki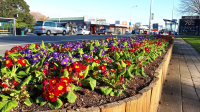 Elevate Ōtaki has engaged First Retail Group (FRG) to develop a Retail and Investment Strategy for the current SH1 corridor. The strategy, co-designed with stakeholders, will determine solutions to maintain and grow market share, and leverage the area's unique destination benefits, brand and position - along with successfully navigating changes in audience, competition and recognised challenges in the economic climate.
This important work will ensure businesses can best benefit from upcoming roading improvements, nearby housing and commercial developments bringing more people to the area, and changing working practices that have grown and strengthened weekday audiences.
The team at FRG are reaching out to businesses and the community - creating opportunities for them to share ideas and vision for the Township to develop a comprehensive understanding of need and achievability.
FRG are especially keen to connect with Ōtaki's business owners, ensuring your perspectives can inform the direction the Township can take in supporting it's growing catchment and role as the heart of this community.
Share your thoughts through one (or both) of the channels below: