Media Release
Elevate Otaki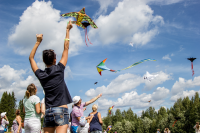 If you live in Kāpiti or you are just passing through you'd be hard pressed not to notice the hive of activity on the Peka Peka to Ōtaki Expressway. Back in 2009/10 when the New Zealand Transport Agency (NZTA) first met with the Ōtaki Community Board (OCB) to discuss this project, everyone knew something had to happen as the congestion was frustrating for motorists and locals alike. The community board agreed that the only way forward was to work collaboratively with NZTA to achieve the best outcome for the community. Since then the OCB has worked with NZTA and Kāpiti Coast District Council to negotiate funding of $300,000 to help Ōtaki mitigate the effects of the expressway during construction and beyond.
Fast forward to 2017 and the group "Elevate Ōtaki" has been formed. After advertising for expressions of interest, local people with a passion for the community and a wealth of experience have volunteered their time to look at opportunities to promote Ōtaki as a destination and advise on how the $300,000 should be spent.
Elevate Ōtaki's membership comprises of:
Hanna Wagner-Nicholls, who comes with a background in destination marketing and wants to ensure we maximise the opportunities the expressway brings

Ian Carson, who is well known for his work with the Ōtaki Promotions Group, the Kite Festival and has a plethora of communications industry experience

Sam Pritchard, who brings a good knowledge of industrial and commercial retail and is keen to see Ōtaki prosper

Joshua Housioux, an experienced project engineer/manager with large multinational and regional businesses who has returned home and has a strong passion for growing Ōtaki whilst maintaining its character

Libby Hakaraia, who is well known for her extensive work in the indigenous film industry and bringing Māoriland Film Festival to Ōtaki and the world

Mark Rudings, who has a background in business start-ups and business economics, and is establishing his own new business in Ōtaki, so he is keen to see positive growth

Councillor Angela Buswell, a successful business woman and owner of Superminx

Chris Papps, Chair of the Ōtaki Community Board who has run several successful businesses

Heather Hutchings, Chair of the Kapiti Chamber of Commerce, who brings extensive knowledge of what's going on within the district and a range of valuable connections.
Working together, Elevate Otaki will now focus on how to elevate Ōtaki to the next level. Success will be a community that is thriving, and with a busy retail centre that is a destination in itself. With the new road providing faster and safer travel, Elevate Ōtaki wants to build on that, promoting the natural assets within the Ōtaki/Te Horo area, attracting businesses to set up here and encouraging visitors, tourists and shoppers to come and experience all that Ōtaki has to offer.